| | |
| --- | --- |
| Posted on October 17, 2018 at 12:05 AM | |
Had a great couple of weeks and now the Michigan shows have come and gone and we can get back to business. Had a great show at both the MASH in Novi, at the Michigan State Fair, and at St Joseph County at Centreville. Have to plug for the MASH though; cattle are housed and shown inside the Suburban Collection Showcase, fully air-conditioned and extremely comfortable. As opposed to Centreville in the middle of September, with some of our hottest weather saving up to wear on us and the cattle. Blistering heat and humidity made Centreville again a haven of cattle hosers, spending part of each afternoon cooling the animals down before putting them back in the barn. Saturday of Fair week finally saw the temperatures drop dramatically, to the point of requiring heavy coats. Welcome relief. We had a good turnout for both shows with some of the cattle pulling repeat performances. Notably: Snowland First Lady pulled a Michigan coup, defeating all comers at our three shows for rights to call herself THE Cow/Calf Champion. (She just completed the World Beef Expo in Wisconsin and finished as Reserve Grand Champion there.) She received numerous complements from all judges. CBS Josie was awarded Grand Champion Heifer at both Centreville and Novi, while Dundonald's Cho Sona was awarded Grand Champion Bull at Centreville and Gray Owl's Scooter was handed the same title two weeks earlier at Novi.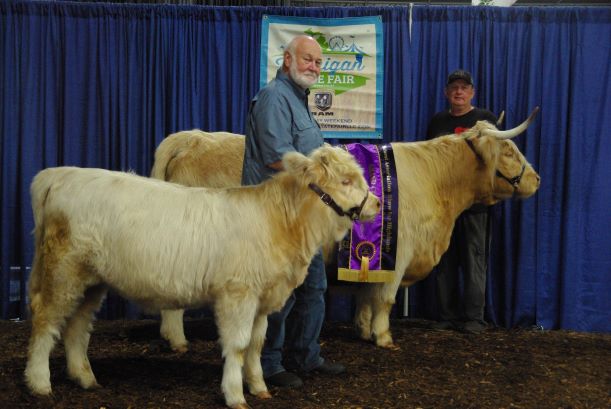 Snowland First Lady with calf Snowland Lady's Lily awarded Grand Champion Cow/Calf

LEA Only Dreaming pretty much stole the show when she wasn't in the ring.

CBS Josie, Grand Champion Heifer, MASH 2018 and Centreville 2018

Gray Owl's Scooter is Grand Champion Bull at MASH 2018

Steve Palosaari (Snowland Livestock) pretty much stole the show when he was in the ring.

LEA Nettie Creek named Reserve Grand Champion Heifer
LEA Jamie Lee and calf LEA Only Dreaming receive Reserve Grand Champion Cow/Calf Award